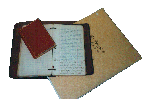 Excerpt
Walnut Hill
The same Conestoga wagon that had brought the Pierces from Pennsylvania in 1822 was sent up to Brandywine, Delaware, the next spring to fetch Hannah Pierce's cousin and close friend Elizabeth Ellicott Lea ("Betsy"), and her family, to Walnut Hill, a house that still stands on the brow of a hill overlooking the Hawlings River, on part of the acreage that had been the elder James Brooke's bequest to Betsy's mother, Elizabeth Brooke Ellicott. Thomas Lea, Betsy's husband, had written ahead to Joshua Pierce:
I will leave with wagon and four horses, oxen and cart all loaded, six cows and 1 bull, one Doz. sheep. When my stock arrives it will make the Maryland farmers open their eyes.
But Thomas' farming efforts were unsuccessful and he was plagued with ill health. He died, age 40, only six years after the move to Walnut Hill. He was buried in the Sandy Spring Friends graveyard; his wife, who survived him nearly thirty years, in Woodside Cemetery, near Brinklow.
[Chronicles of Sandy Springs Friends Meeting and Environs, pg 66]
[Note: Although this article places Thomas Lea's grave within the Sandy Spring Friends graveyard, his gravestone and those of his immediate family are in nearby Brinklow. We do not know if he was buried and later moved, or if the gravestone in Brinklow represents a cenotaph.]