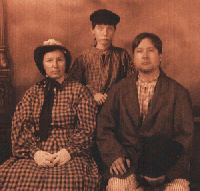 Lying forgotten in dusty attics or much beloved amongst our most treasured possessions, are letters, diaries, memoirs, photographs, account books, recipes, personal notes and the other remembrances of our ancestors. This site presents works from a variety of authors in different situations -- soldiers in war, young ladies traveling abroad, struggling immigrants, and the children of wealthy planters. Wherever possible transcriptions have been made from the original documents with as much detail retained as technologically possible. This means strikeouts, inserts, alterations, misspellings, margin annotations, every aspect replicated as closely as HTML will allow, along with high rez scans.

My personal belief is that historic documents belong in public archives where they can be of the greatest benefit to researchers everywhere. Documents and photographs are difficult to maintain, to preserve for the future. It is tragic to think of how many irreplaceable artifacts have been lost to the negligence of well-meaning relatives -- papers stacked tightly folded so that the fibers break along the seams, photographs hanging in a sunny room, fading away, a beloved gown on display while silk rot eats away the fabric, or the saddest of all when a precious Daguerreotype (a picture on a silvered surface) is polished until the image is literally buffed into oblivion.

Once you have documented your artifact with photographs, scans, transcriptions, etc. the preservation of the original is best handled by the professionals. Unless your house is climate controlled and you are skilled at conservation for each type of artifact, it is time to find a permanent archival home. Not only will you be doing the public a great service, you will be ensuring that your family artifacts have the best chance of surviving.


| | |
| --- | --- |
| | Many thanks to the family and friends who have contributed to this site. Those who feel inclined to donate money to offset fees are encouraged to do so. You may make a donation through PayPal. It's fast, free and secure. Just click on the ever-grateful Donations Mouse image to the left. |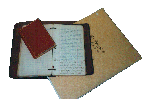 Throughout the site, clicking the diaries image will return you to this home page.