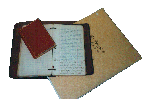 Select the name to see that individual's service record, if available. Otherwise, the link will take you to the individual's biographical page.

Select the military unit for information on its history.
French & Indian War
Revolutionary War
War of 1812
Spanish-American War
Military records for those in service after the Spanish-American War were destroyed by fire in the 1970s.
World War One
Alexander, George L., U.S. Army Ordnance Department
Phelps, John J., U. S. Navy
Phelps, Phelps, Royal Flying Corps
Wilds, Robert H., U.S. Army Medical Corps
World War Two
---
The Civil War service records have been transcribed from microfilm copied from the National Archives. I have put payroll, registers, hospital lists, etc. in chronological order.
The early accounts of military service have been excerpted from genealogical texts. For conflicts of the 20th century, what is presented here comes from family members.