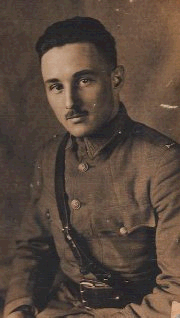 George Ludovic Alexander was born in Pine Bluff, Arkansas on October 2, 1895. His mother died within days of his birth, leaving the baby and his toddler sister Reba in the care of their father, a traveling salesman for International Harvester. George's father soon remarried and moved his young family from Pine Bluff to Little Rock sometime before 1899.
George was 23 when he served in World War One as a 2nd Lieutenant with the Army Ordnance Department. His brother-in-law Eberle Upshaw Stevenson, more commonly known as "Steve," served in France at the same time. As evidenced in this diary, George's presence in France had less to do with the crushing of the Hun and more to do with the crushing of grapes.
In 1923 he married Gladys McCullough, fathering twins, a boy and a girl, in 1927. George became a property manager for Worthen Bank of Little Rock. He died of a heart attack on July 10, 1970.
Description of Original Diary:
The diary is on loose-leaf lined paper held in a three ring leather binder, 4.5 inches by 7 inches. There is a vertical pocket inside the front cover with neat black writing on it. The metal binder spine has separated from the leather cover and in general the leather portions are not in good condition.
The loose-leaf sheets are separated by alphabetical dividers, running A-Z, although those from E-J are damaged. I have removed the excess of blank pages because of the pressure they presented in manipulating the pages with text on them. In general the book is very fragile and requires great care in handling.
The author's handwriting is extremely neat and very small, having been produced with a fine-nibbed pen on most pages and a sharp pencil on a few. You may view a sample page.
Transcription Notes:
I have tried wherever possible to keep the author's format, including superscript additions, underlines, strike-outs, and have noted as appropriate where the text changes to the typewritten. However, due to the limitations of web page formatting some changes have been necessary, and some entries -- such as lengthy accounts at the end of the diary have been omitted for the sake of brevity. Items in [italics] are my own annotations.
A note of caution
Lt. Alexander's terminology will probably offend some, but the transcript is faithful to the original diary, including the use of biased language.