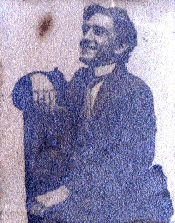 Joseph John Collins was born on October 17, 1877. His natural parents are unknown (although his mother may have been named Bridget Mulligan). He was adopted in early childhood by the Collins family. His adoptive parents, John Collins and Bridget McMahan, were Irish immigrants from Naas, Ireland who settled in Philadelphia, Pennsylvania in the years just before the American Civil War. Joe Collins served in the Spanish-American War and was stationed in the Philippines. Some years after his return he married and fathered three children before his death July 01, 1946.
Description of Original:
Bound in burgundy leather, this diary measures 4x6.5 inches. The pages are lined in blue with a one inch margin marked in red. The handwriting varies from ink to pencil with more pencil entries near the end of the entries. The overall condition of the diary is excellent and the handwriting legible. Punctuation is largely non-existent with one sentence running into the next. The spelling is mostly correct, but with some errors, such as "quite" instead of "quiet." Capitalization is inconsistent at the beginning of sentences, though it is regularly used for proper names. A sample page is available.
One of the more difficult tasks with this diary has been sorting out the proper names, including people, places, and ships. Many of the names are foreign and the author's spelling varies. I have tried to locate as many of the geographical names as possible.
A few of Joe Collins' letters and a poem are reproduced elsewhere on this site as is his discharge certificate.
Transcription Notes:
Notations by the transcriber are in italics, with additional date notations (such as year and month) in italics. Daily dates are in bold although they do not appear that way in the original. This is for the ease of the reader. Wherever text has been struck out it is because it so appears in the original.
A note of caution
Mr. Collins' terminology will offend some, but the transcript is faithful to the original document, including the use of biased language.